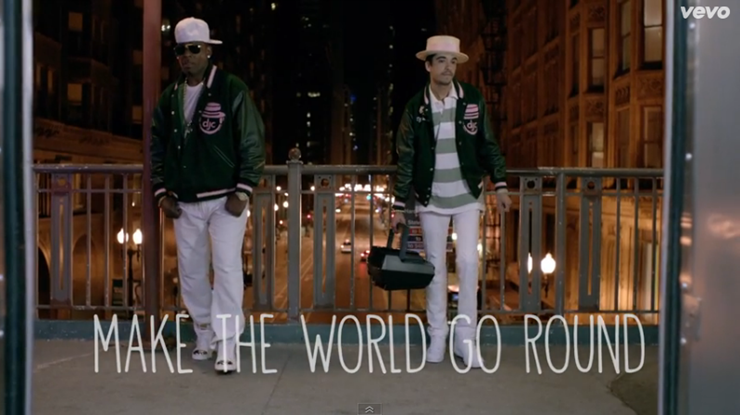 DJ Cassidy and R. Kelly want music to "Make The World Go Round" in new video.
DJ Cassidy has premiered the music video for his new single "Make The World Go Round" featuring R&B king R. Kelly.
The disco-tainted track is taken from the famous DJ's upcoming Paradise Royale album that will be out later this year.
"Make The World Go Round" is the follow-up to "Calling All Hearts" that features Jessie J and Robin Thicke which performed very well in the United Kingdom peaking at number 6.
In the video that was directed by X., R. Kelly and his collaborator hop on a train, that they turn into a hot party spot where everyone is trying to have some fun.
The vibe is obviously upbeat and the fun atmosphere could turn the song into a summer anthem. Paradise Royale will contain cameos from Usher, Mary J Blige, John Legend and Cee Lo Green.
According to early reviews it is a very solid album that pays homage to an era that is close to Cassidy's heart. It took him over 4 years to see this project through.
If Paradise Royale needed any lift in terms of promotion, this enchanting new video can probably help. R. Kelly's voice really shines through here and the production is very meticulous.
It's palpable that the whole thing was not forced at all. The chemistry seems real, natural and not manufactured. There is a real viral aspect to the clip, we can only hope for the two talented artists that it takes off.
DJ Cassidy has been touring the world talking about and promoting Paradise Royale. As for the Piper of R&B he has songs with Jennifer Hudson and Keyshia Cole lined up for the rest of 2014.
The music legend is also believed to be working on the soundtrack to the James Brown biopic Get on Up that will premiere on August 1 in the US. A new tour could also be in the cards.