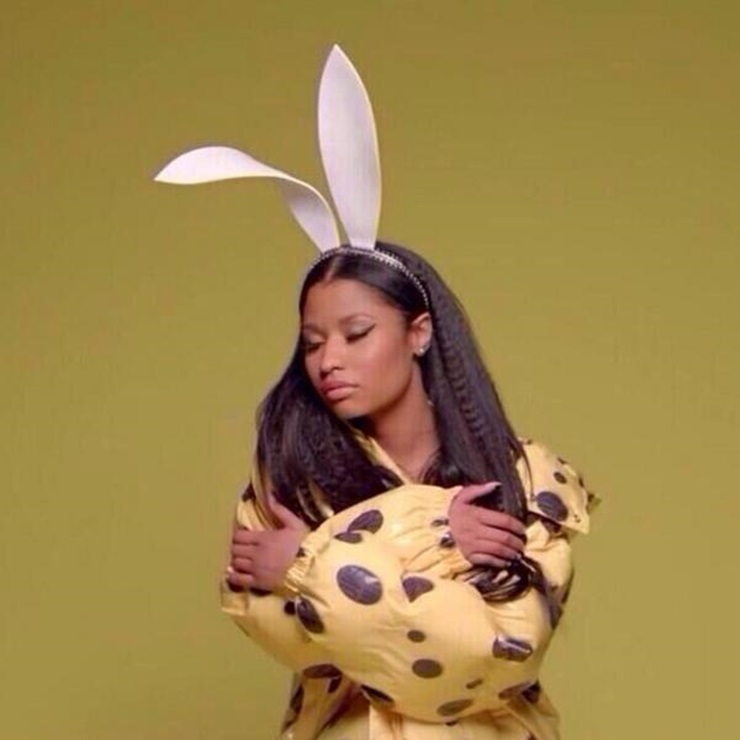 The teaser for Nicki Minaj's new video "Pills N Potions" (Pills and Potions) shows a different side of the "Starships" artist. Will it be hot?
Nicki Minaj has unveiled the first snippet of her upcoming music video for the song entitled "Pills N Potions."
The Young Money female emcee debuted the 45-second teaser during an appearance on Good Morning America with Lara Spencer.
The Diane Martel-directed clip is unlike anything she has done before, it is very artistic and features Minaj wearing bunny ears in one scene and crying what seems to be metal like tears in another.
The Nicki Minaj "Pills N Potions" video teaser contains some odd and interesting shots such as a bunny-shaped PEZ dispenser releasing pills and a small rabbit toy with drums.
The "Pills N Potions" video will apparently unveil a more subtle, vulnerable and feminine Minaj.
Controversial rapper The Game plays her love interest in the visual which is set to premiere in full this Monday on LIVE with Kelly and Michael.
The two hip hop stars met for the very first time while shooting the clip that some people say will be raunchier than the preview suggests. We think not, either way she looks flawless and her natural beauty is seriously starting to shine through.
Check the trailer and Minaj's interview with Spencer where she talked about her new look, plans to become a mogul and upcoming album The Pink Print below. The record that is expected to be out later this year has no official release date as yet.
The "Super Bass" singer is keeping things secret for now, so her fans can keep their attention on the single.
Is Nicki winning here?